Slotting in neatly between cleanse and moisturise, serum is an unsung hero of a beauty junkie's skincare regime.
Why? Well, serums contain those concentrated, potent ingredients that can hone in on specific issues – from acne to fine lines – and deliver quick and efficacious results.
And if you're in the market for a new serum or are a serum virgin looking to dip your toe in their potent waters, there's one in particular that's making waves.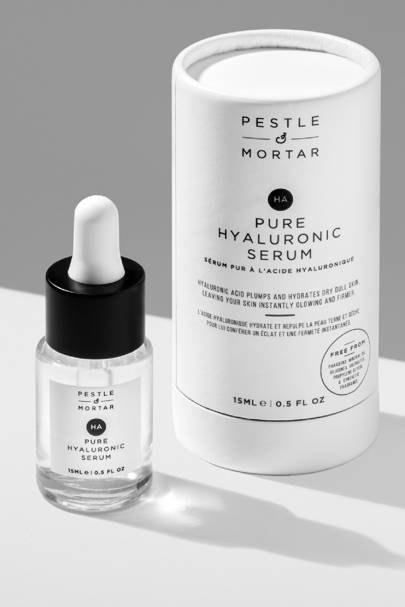 Pestle & Mortar's Pure Hyaluronic Serum (£21 for 15ml) is so popular that it's sold out an impressive five times since worldwide in the last 12 months. Each time it sells out, a waitlist of around 35,000 people amasses waiting for it to be re-stocked.
Described as 'the ultimate multi-tasker for your skin,' the smooth concentrate targets fine lines, dullness and dehydration restoring a healthy glow, plumpness, and radiance.
The lightweight formula with added Vitamin E can be used as a moisture-boosting serum, a silky makeup primer or to provide a hydration boost on-the-go.
If that wasn't enough, Pestle & Mortar Pure Hyaluronic Serum is 100% free of animal-derived raw materials and organic solvent remnants, paraben-free, propylene glycol-free, fragrance-free and not tested on animals.
*Adds to cart*