Wandering around Lush just got even better. Your conscience can now be as clean as you are after an hour with a bath bomb following the launch of a plastic-free line.
The company has acknowledged the environmental problems that come with single-use plastic on their website where they have taken to promoting innovative packaging-free options.
They are calling it their 'Naked Revolution' and you can consider us very much on board. It just means the same great products minus the plastic wrapping. So, for example, instead of a bottle of shower gel, Lush are urging customers to opt for a bubble bar instead.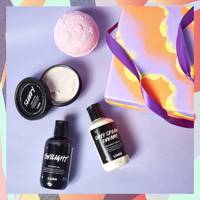 Opting for a bubble bar over a plastic bottle of shower gel from now on could save nearly 1.5 million plastic bottles being produced. Similarly, opting for a shampoo bar might seem a bit weird at first but getting used to it would give you three times as many washes as a bottle.
Solid products are also more likely to be self-preserving so containing less preservatives and nasties – meaning they are even better for your skin. Win, win. Lush claim that any of your favourite products will now be available as solid alternatives.
Lush said that in 2017, 780,959 'naked' products were bought, meaning that nearly 800,000 pieces of packaging were never produced. And this year, they are aiming for an even bigger reduction.
Lush co-founder, Mark Constantine, said: "Packaging is rubbish and for too long we had to suffer excessive amounts of it. Now that the true financial and environmental costs are becoming obvious, customers are challenging manufacturer and retailers to cut the wrap."
Online orders are also going plastic free and packaging has swapped over to strictly cardboard with products nestled in a polystyrene alternative made of potato starch called Eco Flo which is fully biodegradable.
Game changer, much? Consider us very much naked revolutionists.
Want to kickstart your plastic-free campaign? Scroll down for our pick of the best shampoo bars…