Samir Hussein/WireImage
Meghan Markle and Prince Harry are not being shy about their love for each other on their first royal tour as a married couple throughout Australia and the region. They're only on day three of their 16 day journey, but so far the couple has packed on the PDA. The world is swooning—and with good reason.
It appears like it has been an adrenaline rush since day one. On their first day in Sydney, Australia, Kensington Palace announced the Duke and Duchess of Sussex were expecting their first child together. Throughout their time in Sydney and on their next top in Dubbo, Australia, the royals have met hundreds and hundreds and fans, which inevitably leads to an abundance of sweet moments.
Take for instance the moment when Meghan couldn't keep her hands off of Prince Harry when he was hugging Luke Vincent, a 5-year-old with down syndrome who expressed his love for Harry by touching his beard. There's was also long-time fan and 98-year-old, Daphne Dunne, who was ecstatic to hear that the Royal Couple are expecting.
If this is any indication, it's clear that the future royal baby will have some pretty loving and doting parents.
Prince Harry and Meghan constantly show their affection for one another through their PDA, so take a look below at some of their best moments while on their royal tour.
John Grainger/Newspix/Getty Images
Baby on board

Meghan Markle and Prince Harry arrived in Australia and headed straight to their car after a long flight over from London.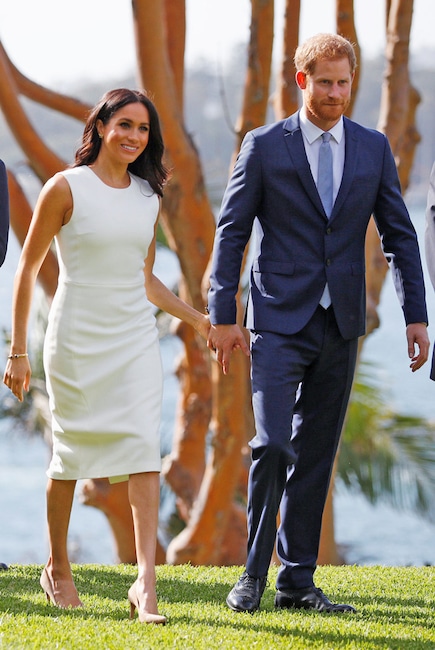 Phil Noble/PA Wire
Hands in Harmony

In their first appearance in Australia on their Royal Tour, the couple are already holding hands. This is also the first time we see Meghan after Kensington Palace announced that the Royal couple are having a baby. No word yet on the baby's sex, but after a long first day—including visiting some koalas—Harry said he couldn't think of a better place to announce the pregnancy.
Samir Hussein/WireImage
Arms Locked

From the second, they stepped off the plane in Dubbo, Australia , the soon-to-be parents couldn't keep their hands off each other before a busy day second day of the Royal Tour.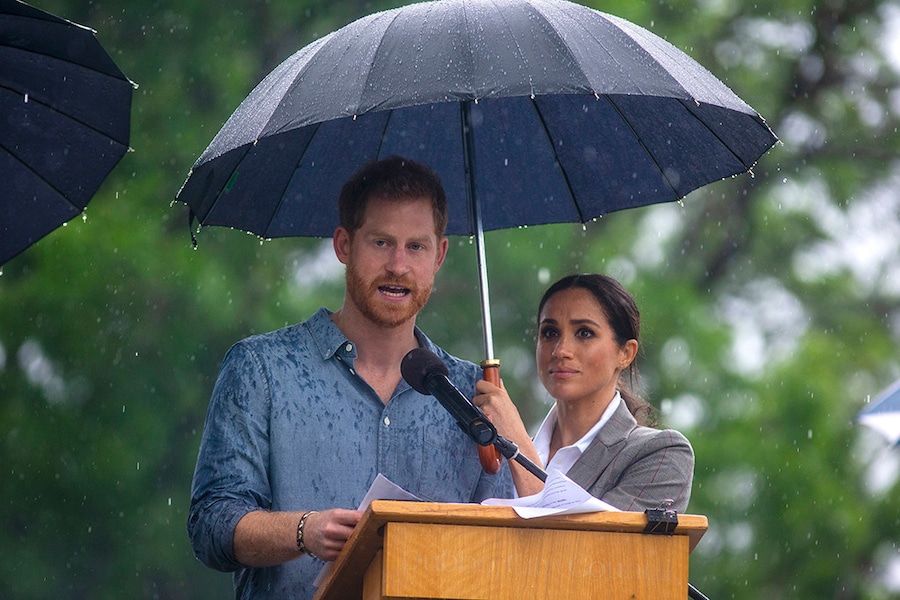 Ian Vogler/PA Wire
Better Together

Meghan willingly stayed by her Royal husband and held the umbrella while he gave a speech on mental health to locals on the second day of the tour in Dubbo, Australia.
Ian Vogler/PA Wire
Rainy Romance

Side-by-side, Prince Harry took back hold of the umbrella so his Royal wife could stay dry.
Samir Hussein/Samir Hussein/WireImage
Precious Moments

The couple met 98-year-old Daphne Dunne and talked critical topics like Meghan's impending baby arrival and Dunne's pink hair.
Phil Noble/PA Wire
Gearing Up For Parenthood

In probably the sweetest moment of the Royal Tour so far, the Duchess of Sussex put her hand on the soon-to-be dad. He's hugging Luke Vincent, who has Down syndrome. Luke, who has met the Royal before, asked if he could touch Harry's beard. Perhaps, this is why the Royal Couple are sharing a laugh.
Karwai Tang/WireImage
Popular Among The Crowd

The Royal couple lovingly stood together and greeted the crowds in Dubbo, Australia.
Don't miss E! News every weeknight at 7 p.m., only on E!