When Gwyneth Paltrow launched Goop from her kitchen table back in 2008, no one ever expected the quirky new lifestyle brand that sold 24-carat gold sex toys as a staple to boom into a £190 million business.
And here we are, ten years on, watching the first UK pop-up open in West London, full to the brim with the skincare, supplements and sex toys Gwyneth herself swears by.
To celebrate Gwyneth as GLAMOUR UK's first-ever digital cover star, team GLAMOUR has tried and tested some of Goop's most in-demand beauty products. Here's how we got on…
Gwyneth The Great: GLAMOUR's first-ever digital cover star on female sexuality, second-time marriage and being a wellness warrior
The Himalayan salt scrub that gives you luscious hair
Itchy scalps may not be the most glamorous of beauty topics but more and more women are struggling with flaky, irritated heads and, thankfully, brands other than Head & Shoulders are catching on.
One such example is Goop's G.Tox Himalayan Salt Scrub Shampoo, £38, which Gwynnie promises will restore your scalp and locks to greatness.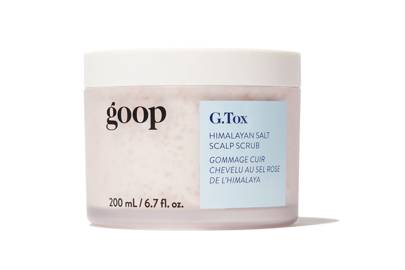 "Our scalp and hair are our crown, and this unique whipped shampoo made of exfoliating mineral-rich Himalayan pink salt, nourishing cold-pressed moringa oil, and pure unfiltered rose hip oil purifies and detoxifies all at once," she says.
The scrub cleanses the hair and scalp of product buildup, dirt, and oil, promising to leave both clean and refreshed. Hoping to slough away years of product build-up, I massaged it into my scalp and firstly, the cleansing scent – rosemary, geranium, orange, and peppermint – was absolutely amazing.
It was tough to get the scrub deep into my scalp (I have hair thicker than a horse) so I used several dollops for a thorough cleanse and followed with my regular conditioner.
The result? Freshly-scented, deeply cleansed and hair (nearly) as glossy as Gwyneth's. I will certainly be making this scrub a staple in my haircare regime.
The martini bath salts that calm your emotions
The Martini Bath Salts, £30, infused with Himalayan pink salt and chia seed oil, are supposed to be an 'emotional detox' and Gwyneth relies on it as a wind-down daily.
The instructions do state that you should 'soak for 20 minutes' – difficult for someone who likes to wash and go – but alas, I sat there and it turned out to be surprisingly relaxing. The packaging also suggests that you 'meditate or chant' but I decided to give that one a miss for the sake of accidentally scaring the people I live with.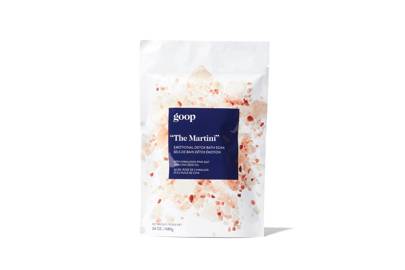 However, the fresh, fruity smell of the salts out-scented the candles in the room, and knowing the natural ingredients I was lying in did make me feel detoxed. At the time I wasn't feeling majorly religious, but getting into bed afterwards was divine and I fell into an amazing sleep within minutes (a rare occasion), which I put solely down to the magical pink dust.
Cheers to that, Gwyneth!
The face oil that promises to give you the Goop glow
Oh, Gwyneth, if only we could bottle whatever you've been using on your never-ageing skin. Oh, wait, you already have!
The goop by Juice Beauty Enriching Face Oil may be £98 but if it gives a glow to rival Gwyneth's, just take my money.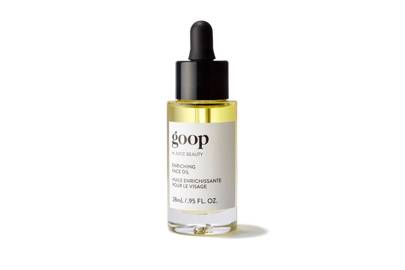 Made with a pure blend of organic oils (naturally), it's designed to sink instantly into the skin. I slathered a few drops on before bed and do have to admit, it didn't sink in as swiftly as I'd have hoped. Still, it smelt delicious and gave my tired, dry skin the instant shot of hydration it so desperately needed.
By morning, my skin still felt drenched in the stuff and my makeup glided on with ease. While I didn't suddenly glow like a beacon of light, the oil is a welcome addition to my skincare arsenal – even if I'll have to sell my mum to afford the stuff.